In my fruitless quest for Supercoach points so far, I feel this classic Rocky quote is well overdue: But it ain't about how hard ya hit. It's about how hard you can get hit and keep moving forward. How much you can take and keep moving forward. That's how winning is done!
11 rounds in and I've taken enough hits already, is it time to win again? To rack up some decent scores without anyone falling over? Please?
Before we get started, a shout out to another coach
And it's a coach outside this fantasy footy festivities too – Damien Hardwick the coach of the Richmond Tigers stepped down from his position effective immediately, citing that he just didn't feel like he was up to it anymore. (Part of that decision was also due to watching The Last Dance and wondering 'What if'). And as a Richmond supporter, it's a bitter sweet moment. He was instrumental in helping my mighty Tigers win three premierships in my lifetime but he's also been through many rough seasons too at the head of the Tigs and it's all added up. Which means alongside the dizzying heights of success, he's also seen his fair share of crushing lows and that level of scrutiny when all the chips are down would be incredible pressure and not something I'd wish on anyone.
So while I'm sad to see him go, I sincerely hope he gets to enjoy his time away from coaching and whatever comes next. Damien, thanks for everything you legend.
And now back to a coach at a completely different (much much lower) level.
Oh Feed The Machine, can we just have one week where none of you fail to show up or don't splutter out like a banged up Datsun halfway through the game?
Can you just prove it's possible?
Firstly, let's see who's listed as 'hit by a seagull and out for three weeks' courtesy of the AFL team lineup. Of course this is just what the teams have submitted, there's still a chance someone might trip over a misplaced hot dog or get trapped in an elevator somewhere and not make it to the oval in time.
Injured. So he's out but his buddy Barrass and Hurn are back in. But will they actually play this round (and should I take the risk?)
Lukosius is listed as playing on the midline, but I have him up in front. I was going to think about swapping him with Brynes for the chance at more Supercoach points but he too is also somewhere in the middle. My only option left is Hogan, so in he comes.
And Macrae is back at being Captain this week for maximum (read: double) supercoach points. He's really putting in the effort week after week so he gets to keep the crown for now.
And so with those green lights lit, our motley mob looks a little like this at the moment:
As for our opponent this week, I'm feeling slightly more confident than this time last week because while I'm languishing at 11th on the ladder (out of 12), the Tysonic Hedgehogs are only two spots above me. Which means it's a clash of the lacklustre teams, excellent!
Wish me luck and sacrifice a goat or two, we're going in hard for all the Supercoach points this week!!
So how'd we go? Did we nail those Supercoach points?
Of course not. It's another wrestling related GIF time for reasons I'll explain in a sec.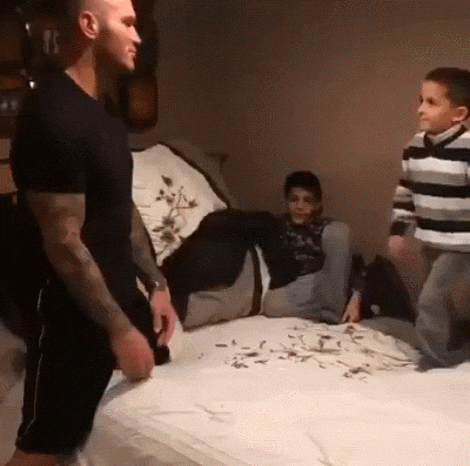 Obviously that's me on the left and the RKO out of nowhere by the kid? Well that's because of the usual player that got rubbed out for some reason before the game even started syndrome. Only with my kick in the fun bits this week, I had two of them!
Both Vlastuin and Hunter were DNP and agonisingly, if either of them showed I WOULD HAVE WON THIS F'N ROUND!!!!!!!!!!!!!!!!!!!!!!!!
They were listed! They were selected to play! They did not play and as a consequence, I lost the round by a stupidly low 31 Supercoach points! GAAAAAAAAAAAAAAAHHHHHHHHHHHHHH!!!!
Seriously, this game really has it in for me 🙁 Next week then!

Edit: Oh god, it's bye round time. Well there goes that win..